Daily Mail feat. Ark Hunter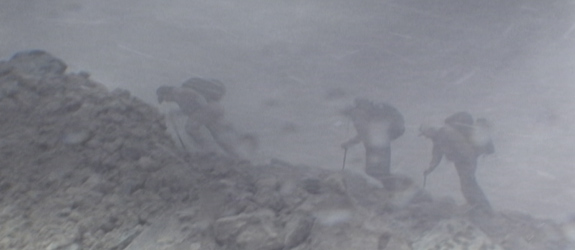 The mystery disappearance of a Scots explorer who devoted his life to searching for the fabled Noah's ark is to feature in a new film. Donald Mackenzie has not been seen since failing to return from an expedition on Mt. Ararat in Turkey.
The self-dashed styled missionary had set off alone to the hazardous region on the fringes of Iran to trek down the final resting place of Noah's mythical vessel.
But after calling one of his three brothers in September, 2010, his despairing family have waited in vein for news of Mr. Mackenzie, of Stornoway, Lewis, in the western Isles.
The only evidence he had even been in the area was his white vauxhall combo van, parked in a village at the foot of the mountain. Now his relatives are pinning their hopes on a new film, which they hope will spark renewed interest in Mr. Mackenzie's case and uncover the truth about what happened to him.
The film, entitled Ark Hunter, features documentary footage of Mr. Mackenzie shot before he was last seen at the age of 47.
He had returned to the region for a fourth visit after Chinese explores claimed to have found the remains of the ark. The Bible identifies the mountains of Ararat as its resting place after the flood.
Ark Hunter, a docudrama, due for release next year, traces American filmmaker Jeremy Wiles' own quest to locate the ark and includes an encounter with Mr. Mackenzie on Mt. Ararat.
The missing man's brother, Derick, of Stornoway, said: "Ark Hunter features interviews with Donald before he disappeared and we hope that the publicity generated by the film will reignite official interest in what happened to my brother. I believe there still has not been a proper search undertaken of the area where we think Donald went missing. I think initially Turkish authorities wanted to be seen to be doing something so they sent a search party out but, having spoken to people out there, my impression is that it is far from a thorough job. People are making money out of that part of the world, and that mountain in particular, because of the myths. We just want to know the truth."
Mr. Mackenzie said his family remained hopeful that his brother could still be alive but accepted that, with the passage of time, that seemed remote.
He believes there are four possible explanations for his brother's disappearance – a mountain accident, kidnap, being killed by robbers or being attacked for religious motives.
The mystery has taken its toll on their mother. Noted gaelic singer Maggie Jean. She said, "this is just destorying me at the moment. We just don't have any conclusion to this and that is very hard. I look out of the window every night and I am willing him to appear. There is a part of me that still hopes he is alive, that he is imprisoned and cannot get out. That sort of thing has happened before."
Mrs. Mackenzie added: "my wish is that when this film is released, people will be asking where is Donald Mackenzie? I believe it's going to be very embarrassing for the Turks."
Ark Hunter takes the form of an epic travelogue, in which Mr. Wiles charts his own attempts to get to the bottom of the ark myth.
Speaking from his Florida home, Mr. Wiles said, "Donald plays quite a significant part in my film. I met him while I was in eastern Turkey searching for Noah's ark in 2004. He was also there for the same reason. We met later and climbed Mt. Ararat together. At 13,500 feet we got stuck in a blizzard and were happy to escape with our lives. When you go through this type of situation with someone, a special bond is created. In some of the conversations I had with Donald on Mt. Ararat, he ironically shared the extreme dangers of the mountain and the frightening stories of how others have gone missing in the past. My entire expedition with Donald and our conversations on Mt. Ararat were filmed and will be in my movie when it's released in the theaters."